---
---
---
Today's Salsa CD reviews

Celia Cruz - Mi vida es cantar :

If you have been in salsa for more than a couple of weeks you surely already know who Celia Cruz is and if you don't you can easily find out in thousands of web sites, so I won't waste too many words on this; it will suffice to say that Celia Cruz is for salsa what Tina Turner is for pop, just much, much more. Since she has been around for over half a century her music production is immense; and since during those 50+ years she has enjoyed and undisputed role of queen of salsa, she could choose the best musicians, arrangers and composers to produce her music, who would simply bow at the honour. Among tens of great CDs, today I chose one of her latest and undoubtedly the best of her final years.

It should be clear from the start that this is a commercial CD, so it enjoyed success more among relative novice salseros than among the 'elite'. Surely, it contains some sins, 'La vida es un carnaval' on top of the list, a cumbia dressed like a salsa, with a catchy melody which became the favourite of many DJs willing to lure non-salsa dancers to the floor while immensely annoying the purists. Nevertheless, you can find very nice tracks too, starting from "Mi vida es cantar" and "Cal y arena", my favourites, to "Canto a Lola Flores", "Patica de chivo" and "Salsipuedes". All these tracks are easy to dance, with clear beat, reasonably relaxed pace and catchy enough to catch the fancy of the non-expert without annoying the initiated. As a bonus, you will find a gorgeous merenge "Me astan hablando del cielo", sung with Kinito Mendez, and a pleasant bolero "Siento la nostalgia de palmeras". Among commercial productions we have found much worse than this one! 8/2/08
Read more Salsa and Mambo CD reviews...
Today's Salsa DVD reviews

Omar Chocolate - Salsa 2, Learning to Dance at Home
Level: Beginner
Style: Cuban/Casino
Content: DVD with Salsa Dance Course and Videoclips with free Bonus-CD.
Basic Salsa Course (Basic steps and 11 Patterns): 1) Start; 2) Adentro; 3) No; 4) Paseo Cha-cha-chá; 5) Vuelta; 6) Enchufle y adentro; 7) Dile que no; 8) Prima; 9) Sombrero; 10) Vuelta con sombrero; 11) Contravuelta con sombrero; 12) Doble sombrero; 13) Doble vuelta; 14) Alicia; 15) Despedida; Videoclips: 1) Guarachandito; 2) Atrapado en tí; 3) Añoranza; 4) Quiero ser; 5) A modo de explicación; 6) Intrusa para amar; 7) 2 en 1 Cha-cha-chá y el Bodeguiero; 8) Vacaciones sin tí; 9) Nos vamos pa'la casa; 10) Milagro; 11) Sabor a Caney.
Bonus-CD: 1) Intrusa para amar (Bachata-Son); 2) 2 en 1 Cha-cha-chá y el Bodeguero (Cha-cha-chá); 3) Se me para el corazón (Salsa); 4) Añoranza (Salsa); 5) Atrapado en tí (Salsa); 6) Candela II Intro (Salsa); 7) Guarachandito (Salsa); 8) Parampan pan (Salsa); 9) Candela II final (Salsa); 10) Moliendo café (Salsa); 11) Bilongo (Salsa); 12) Nos vamos pa' la casa (Salsa); 13) Quiero ser (Salsa); 14) A modo de explicación (Bachata); 15) Intrusa para amar (Bachata); 16) Milagro I (Merengue); 17) Sabor a Caney (Merengue)
Available in many European languages with a choice of audio or subtitles:

General Comment: The video clips are typical music video clips with their standard sensuality and love story, which have more to do with promoting the CD and little to do with learning salsa so if you start with this section as I did you may be disappointed since you no doubt bought the DVD to learn salsa. It is entertaining nevertheless.. The salsa course is exactly as described - basic which for complete beginners is not a bad thing as there is a lot of repetition and a variety of dancers showing the same moves so you get a feel for how it should look. I found it a little strange in parts as the counting was 2-2-3 with the step on 3 which could be confusing if you live in a country where salsa is danced either on 1 or on 2. Each step is demonstrated by the man and then the woman separately without music (the silence is deafening!) and then they put it together as a couple with music. Some of the moves such as sombrero use variations which are not standard in the teaching of casino so that also may cause some consternation for beginners. Some of the femal dancers show "disco salsa" which is much more bouncy and with Western rather than Latin hip movements which will upset the purists. Nevertheless it may be of interest to beginners and the bonus CD to start your collection is surely a good thing.
Reviewed by Ally - OK
General Comment: This product comes with a music CD and a DVD containing some video clips and a basic salsa tuition. The idea is not bad. From the video clips you can see that Omar can dance, he has a nice swing and fluid movements. The dance tuition is fairly basic. He will show some basic steps and turns taken from the casino salsa repertoire. He dances on 3, which is fairly unusual in the western world, but not that uncommon in Cuba. You will learn how to execute basic right and left turn, Dile que No, a few arm work and variations. The lady's part is shown by different female dancers. An ok video for a beginner. You would not want to buy this product merely for the dance tuition, but since it comes with a music CD and video clips you may consider it.
Reviewed by Fabio - Fair
Read more Salsa and Mambo DVD reviews...
Salsa articles
On2? Which On2?

I am writing this post to all experienced salsa dancers out there, and in particular to all salsa instructors. I have a question which hopefully will spark an e-mail exchange from which I may understand a few things which are unclear to me. In order to put this into context, first a few 'facts'.

Fact 1 . Roughly speaking, most people dance salsa either On1, or On2 Modern Mambo (NY style) or On2 Classic Mambo (Puerto Rican style also similar to Cuban contratiempo). Today Modern Mambo is used more frequently than Classic Mambo at congresses and salsa classes around the world.. more...
The Salsa 10 Commandments:

1)You shall not dance out of time, 2) You shall not refuse a dance to a less advanced dancer , 3) You shall respect other dancers on the dance floor more...
Creativity, Style and Salsa:

How can I be creative in my dancing? How does SuperMario come up with his incredible moves? Did Eddie Torres invent NY style? What is style? Who creates a style? What does it mean to be creative anyway?

There are no objective answers to the above questions. They all, one way or the other, depend on subjective views on the artistic expression we call salsa, on what we like, and on what we intend by salsa in the first place. But we can still say reasonable things about the matter and make the creative process clearer and possibly easier. What follows are some thoughts of mine, mostly borrowed from my maths background. I am sure all this must have been said already within the art or humanistic literature, and if you are aware of work in this area please let me know, so that I can learn more.
Read more articles...
Our DVDs
Salsa Timing Exercises
This program will help you solve your timing problems once and for all more..
4 DVDs -

$80

$70
---
Bachata Caribbean Style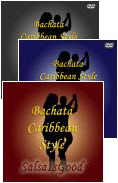 You have never seen Bachata danced this way.. You have never seen it look so good! more...
3 DVDs -

$80

$70
---
From Salsa to Mambo
Learn and practise all the essential footwork you need to dance On1, On2 and Cha Cha Cha more..
DVD - $30
---
Timing Exercises Vol 4
A little chachacha effort now, and you will have endless salsa fun forever! more..
DVD - $30
---
more products..