---
---
---
Today's Salsa CD reviews
Adolescent's Orchestra - Millenium hits

:

Sometimes latin music slips out of its own enclave and reaches pop-ularity outside latin aficionados. It happened with Gloria Estefan, with Ricky Martin and many others. Latin music aficiondos normally are not impressed, but among the fans of the latest latin pop star some may discover that latin music has better to offer and get hooked. Similarly, within the latin pop world some trendy bands may find inspiration in salsa and help pop-ularising it to groups of new potential listeners. Adolescent's Orchestra is one such band. I suppose not even the hard core salsero would deny that this band actually plays salsa, despite such salsa wears an heavy make up, made of fashionable electronic sound, cheeky lyrics, catchy melodies and pop-ish arrangements. It's a commercial enterprise, from the choice of the band's name and its components, to the overall sound, to the production and marketing and it is probably unreasonable to expect artistic peaks to be reached this way. Still if success this band was designed to achieve, success it achieved and it is likely you have heard and possibly danced to some on their tunes in the less hard-core salsa clubs.

It is not my style and I would not choose this music for my next salsa party, but it has attracted a few novices to dance salsa. It is catchy; it reminds of romantic salsa in the melodies and lyrics, but the music is quite powerful and very fast, fast enough to forgive inaccuracies if your timing is not exact, which is also a reason why it is normally appreciated by beginner dancers, new to salsa.


The pace in this CD is slower than what this band has accustomed us to: "Virgen", "Dos inocentes" and "Con migo o col el" are medium tempo salsa. I like best "Envidioso" a pop cha cha cha with a bite. In the CD you will also find a commercial Bachata "Ancianos" and "Mi gusta" a merengue strongly influenced by Elvis Crespo.
---
Read more Salsa and Mambo CD reviews...
Today's Salsa DVD reviews
SalsaLife: Helder Rodrigues & Sandra Donarska - Salsa, der Tanzkurs
Level: Beginners
Style: On1
General Comment: The German title to this DVD may be intimidating, but keep in mind that it comes with a language option which allows you to watch it in English. It is a DVD for complete beginners, in which it is assumed not only that you know nothing of salsa dancing, but also you have never been exposed to its music, its culture or its history. It thus tries to reconstruct a 'salsa' atmosphere with an introduction about what salsa is and what it has to offer the un-initiated dancer. A more experienced dancer may find this a bit kitsch, and possibly not even recognise himself or herself in it but it does not hurt.
The teaching is extremely slow and detailed, which is what we may expect a beginner dancer needs. So are the demonstrations to music, which a beginner dancer could equally follow while watching the DVD. There are several interesting features in the DVD. First, it covers all the basic elements from the basic steps to a handful of basic moves which they call 'choreographies'. Second there is a useful introduction to how to listen to salsa music with a breakdown of basic rhythms and instruments, which is surely useful for a beginner dancer. Finally, as a bonus, there is an intro to other Latin dances you are like to encounter in a salsa club, like Merengue and Bachata.
What I found a bit less inviting is the fairly formal approach to the dance, mostly consisting of a very rigid posture and very emphatic finale to the choreographies, involving some simple dips or theatrical poses, which are somehow at odds with the 'complete beginner' approach to the DVD. Still, altogether this DVD may be useful to anyone needs to go through the initial phases of a dance in a very slow and methodical manner.
Reviewed by Fabio of SalsaIsGood - Ok
---
Read more Salsa and Mambo DVD reviews...
Salsa articles
On2? Which On2?

I am writing this post to all experienced salsa dancers out there, and in particular to all salsa instructors. I have a question which hopefully will spark an e-mail (fabio@salsaisgood.com) exchange from which I may understand a few things which are unclear to me. In order to put this into context, first a few 'facts'.

Fact 1 . Roughly speaking, most people dance salsa either On1, or On2 Modern Mambo (NY style) or On2 Classic Mambo (Puerto Rican style also similar to Cuban contratiempo). Today Modern Mambo is used more frequently than Classic Mambo at congresses and salsa classes around the world.. more...
The Salsa 10 Commandments:

1)You shall not dance out of time, 2) You shall not refuse a dance to a less advanced dancer , 3) You shall respect other dancers on the dance floor more...
Creativity, Style and Salsa:

How can I be creative in my dancing? How does SuperMario come up with his incredible moves? Did Eddie Torres invent NY style? What is style? Who creates a style? What does it mean to be creative anyway?

There are no objective answers to the above questions. They all, one way or the other, depend on subjective views on the artistic expression we call salsa, on what we like, and on what we intend by salsa in the first place. But we can still say reasonable things about the matter and make the creative process clearer and possibly easier. What follows are some thoughts of mine, mostly borrowed from my maths background. I am sure all this must have been said already within the art or humanistic literature, and if you are aware of work in this area please let me know, so that I can learn more.
Read more articles...
Our DVDs
Salsa Timing Exercises
This program will help you solve your timing problems once and for all more..
4 DVDs -

$80

$70
---
Bachata Caribbean Style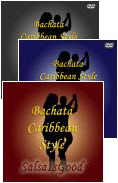 You have never seen Bachata danced this way.. You have never seen it look so good! more...
3 DVDs -

$80

$70
---
From Salsa to Mambo
Learn and practise all the essential footwork you need to dance On1, On2 and Cha Cha Cha more..
DVD - $30
---
Timing Exercises Vol 4
A little chachacha effort now, and you will have endless salsa fun forever! more..
DVD - $30
---
more products..