---
---
---
Today's Salsa CD reviews
Los Años De Andy Montañez Con El Gran Combo

:

This CD was released in the mid 90s, although it contains a number of old songs from Andy Montanez when he was still with El Gran Combo. The combination of the 2 names suggests optimism and indeed this is a very nice CD. Although the recording itself shows its age and both Andy Montanez and El Gran Combo would develop and deliver more sophisticated music in the years to come, some of the tracks are really captivating and definitely able to brighten your practises or your parties. I particularly like "Oye Mi Canto", a nice middle tempo mambo, "En La Palma De Mi Mano", a faster one, the irresistible Cha Cha Chas "Las Tres Marias" and the classic son motuno "Cienfuegos Tiene To Guaguanco". I guess you will also enjoy the guaguagnco rhythm in "Serrana", "Pero Yo Me Quedo" another mambo, and the cha cha cha "De Que Presumes". A pleasant Bomba closes this enjoyable CD.
---
Read more Salsa and Mambo CD reviews...
Today's Salsa DVD reviews
Latin Ballroom Dancer - Reggaeton and Bachata
Level: Beg
General Comment: This series contain 2 DVDs, each including 3 sequences made up of 3 moves, both for Bachata and Reggaeton. The moves are simple, so I would consider this a beginner series, although the Reggaeton movements need some sort of natural body fluidity to make them look credible. The steps are demonstrated, first to counting, then in sequence and finally to music by a number of dancers, so you have an idea of different personal interpretations. In the background and between clips you can see some nice Caribbean scenery. Not as ballroom, as the title suggests.. an alternative way to get into these Dominican dances.
Reviewed by Fabio of SalsaIsGood - Fair
---
Read more Salsa and Mambo DVD reviews...
Salsa articles
On2? Which On2?

I am writing this post to all experienced salsa dancers out there, and in particular to all salsa instructors. I have a question which hopefully will spark an e-mail exchange from which I may understand a few things which are unclear to me. In order to put this into context, first a few 'facts'.

Fact 1 . Roughly speaking, most people dance salsa either On1, or On2 Modern Mambo (NY style) or On2 Classic Mambo (Puerto Rican style also similar to Cuban contratiempo). Today Modern Mambo is used more frequently than Classic Mambo at congresses and salsa classes around the world.. more...
The Salsa 10 Commandments:

1)You shall not dance out of time, 2) You shall not refuse a dance to a less advanced dancer , 3) You shall respect other dancers on the dance floor more...
Creativity, Style and Salsa:

How can I be creative in my dancing? How does SuperMario come up with his incredible moves? Did Eddie Torres invent NY style? What is style? Who creates a style? What does it mean to be creative anyway?

There are no objective answers to the above questions. They all, one way or the other, depend on subjective views on the artistic expression we call salsa, on what we like, and on what we intend by salsa in the first place. But we can still say reasonable things about the matter and make the creative process clearer and possibly easier. What follows are some thoughts of mine, mostly borrowed from my maths background. I am sure all this must have been said already within the art or humanistic literature, and if you are aware of work in this area please let me know, so that I can learn more.
Read more articles...
Our DVDs
Salsa Timing Exercises
This program will help you solve your timing problems once and for all more..
4 DVDs -

$80

$70
---
Bachata Caribbean Style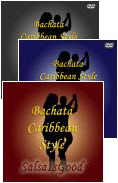 You have never seen Bachata danced this way.. You have never seen it look so good! more...
3 DVDs -

$80

$70
---
From Salsa to Mambo
Learn and practise all the essential footwork you need to dance On1, On2 and Cha Cha Cha more..
DVD - $30
---
Timing Exercises Vol 4
A little chachacha effort now, and you will have endless salsa fun forever! more..
DVD - $30
---
more products..