---
---
---
Today's Salsa CD reviews
Ismael Miranda & Orchestra Harlow – Abran Paso

:

So much power in this CD and it hits you from the very first track. This is one of the best works from Orchestra Harlow and it comes with Ismael Miranda's voice as a bonus. We are talking about classic NY salsa from the 70s, with its typically abrasive street feel; it is not easy listening of course, and beginner dancers may struggle a little bit, but not that much, so an early intermediate can surely adventure in this.

'Abran Paso' gives you the immediate feel of what the rest of the CD will offer. It is a nice salsa, a bit fast but not rushed, and with plenty of energy, one of those which makes you dance whether you want or not. "Donde Llevas el Son" is an equally luring cha cha cha, so is 'Abandonada Fué' and 'Vengo Virao', my favourite one. 'Oigan Bien Mi Guaguanco' is by far my favourite salsa in this CD and you may recognise it as a classics of the repertoire of any salsa congress. In case this is not good enough for a single CD, you can enjoy the equally powerful and danceable 'Dolor y Amor'. In addition to these salsa and cha cha chas, you will find a bolero, 'Ayer Me Enteré'; I find the boleros from this era lacking the magic of the classic cuban ones, but it may very well just be my personal taste, since th song is not bad afterall. Unfortunately the CD also includes a sin, 'Rise up', which is a terrifying Bogaloo, but it is probably a by-product of the days this CD was released and we will pretend we did not notice it and will make sure we skip the track from now on. This is a CD more suitable to party animals and DJs than to instructors or students after some music for practise; if you like NY salsa, this is a must; if you are no sure, this may be a CD to try. 2-10-07
---
Read more Salsa and Mambo CD reviews...
Today's Salsa DVD reviews
Edie Sanchez - Learn Salsa - Salsa Sensual
Level: Beginner/Intermediate
Style: Cuban
Content: Footwork and basic partner work.
General Comment: There was a time when the only salsa videos available were Eddie Torres' and Edie Sanchez'. If you find this video out ot date, keep this in mind. Edie Sanchez' two videos contributed a lot to the popularization on Salsa in the UK. They contain basic concepts an basic steps, plus a set of intermediate level routines. The scenes with Edie Sanchez dancing in the very british envoronment of central London, a stylish House Farm and the sourher English coast show his effort in bringing cuban dance in the English social context.. he surely succeded..
Reviewed by: Fabio from SalsaIsGood OK
---
Read more Salsa and Mambo DVD reviews...
Salsa articles
On2? Which On2?

I am writing this post to all experienced salsa dancers out there, and in particular to all salsa instructors. I have a question which hopefully will spark an e-mail (fabio@salsaisgood.com) exchange from which I may understand a few things which are unclear to me. In order to put this into context, first a few 'facts'.

Fact 1 . Roughly speaking, most people dance salsa either On1, or On2 Modern Mambo (NY style) or On2 Classic Mambo (Puerto Rican style also similar to Cuban contratiempo). Today Modern Mambo is used more frequently than Classic Mambo at congresses and salsa classes around the world.. more...
The Salsa 10 Commandments:

1)You shall not dance out of time, 2) You shall not refuse a dance to a less advanced dancer , 3) You shall respect other dancers on the dance floor more...
Creativity, Style and Salsa:

How can I be creative in my dancing? How does SuperMario come up with his incredible moves? Did Eddie Torres invent NY style? What is style? Who creates a style? What does it mean to be creative anyway?

There are no objective answers to the above questions. They all, one way or the other, depend on subjective views on the artistic expression we call salsa, on what we like, and on what we intend by salsa in the first place. But we can still say reasonable things about the matter and make the creative process clearer and possibly easier. What follows are some thoughts of mine, mostly borrowed from my maths background. I am sure all this must have been said already within the art or humanistic literature, and if you are aware of work in this area please let me know, so that I can learn more.
Read more articles...
Our DVDs
Salsa Timing Exercises
This program will help you solve your timing problems once and for all more..
4 DVDs -

$80

$70
---
Bachata Caribbean Style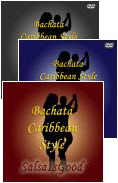 You have never seen Bachata danced this way.. You have never seen it look so good! more...
3 DVDs -

$80

$70
---
From Salsa to Mambo
Learn and practise all the essential footwork you need to dance On1, On2 and Cha Cha Cha more..
DVD - $30
---
Timing Exercises Vol 4
A little chachacha effort now, and you will have endless salsa fun forever! more..
DVD - $30
---
more products..