---
---
---
Today's Salsa CD reviews
Manolito y su Trabuco – Control

:

This is another artist who has perfected a formula over the years ad applies it faithfully to deliver music his fans can rely on. In Manolito's case I feel a growing confidence with the formula, which makes the arrangement richer and richer and the sound more and more Manolito's. Musicians will love the counterpoint in the arrangements with the interleaving among trumpets, trombones, violins, flutes and occasionally even a guitar. Dancers will find the familiar slow timba perfect for practising the hardest casino moves or perfecting the coordination of your rueda team. Among all timbas I like "La Habana Me Llama" best, with a medium pace and a drive for dancing. "Niebla Del Riachuelo" is a nice bolero sang by Andy Montanez and "Muevete un poquetico" vaguely remind of the Angel Bonne's touching melodies.
| Title | Style | Speed/Pace | Our rank |
| --- | --- | --- | --- |
| Relampago | Timba | Medium | 4* |
| Loco Por Tus Besos | Timba | Slow | 4* |
| Comenzar | Timba | Slow | 4* |
| La Habana Me Llama | Timba | Medium | 4* |
| Coleccionista De Canciones | Ballad | Slow | 3* |
| Muevete | Timba | Slow | 3* |
| Niebla Del Riachuelo | Bolero | Slow | 3* |
| Corazon | Timba | Slow | 3* |
| Popurrit | Timba | Medium | 4* |
| Guines Que Le Pasa a Tata | Salsa | Very Fast | 3* |
---
Read more Salsa and Mambo CD reviews...
Today's Salsa DVD reviews
Yvonne GoldSmith - Ladies Styling on 2
Level: Int-Adv
Style: On 2
Content: Ladies Styling and Shines
General Comment: This DVD is the twin sister of the Ladies Styling on1, and given that Yvonne had a lot of material to show us it makes sense to have produced them on different counts. For what regards the quality and content you may refer to my comment on the On1 DVD which I here summarise: excellent teaching of salsa elements in the first part and some exuberant shines in the second one. I liked the section 'Changing positions with your partner' with hints for the ladies on how to decorate the parts of the song in which, with no connection with the partner, you are invited to swap the position on the line with your partner.
All the material taught is quite independent of the beat on which it is danced (on1 or on2) so if you like one of the DVDs you will be able to learn the material from the other one and convert it quite easily. Last comment: unlike recent trends, both DVDs are full of content, and quite long; Yvonne did not spare effort in selecting the material, as you would expect from a good instructor.
Reviewed by: Fabio from SalsaIsGood Good
---
Read more Salsa and Mambo DVD reviews...
Salsa articles
On2? Which On2?

I am writing this post to all experienced salsa dancers out there, and in particular to all salsa instructors. I have a question which hopefully will spark ane-mailexchange from which I may understand a few things which are unclear to me. In order to put this into context, first a few 'facts'.

Fact 1 . Roughly speaking, most people dance salsa either On1, or On2 Modern Mambo (NY style) or On2 Classic Mambo (Puerto Rican style also similar to Cuban contratiempo). Today Modern Mambo is used more frequently than Classic Mambo at congresses and salsa classes around the world.. more...
The Salsa 10 Commandments:

1)You shall not dance out of time, 2) You shall not refuse a dance to a less advanced dancer , 3) You shall respect other dancers on the dance floor more...
Creativity, Style and Salsa:

How can I be creative in my dancing? How does SuperMario come up with his incredible moves? Did Eddie Torres invent NY style? What is style? Who creates a style? What does it mean to be creative anyway?

There are no objective answers to the above questions. They all, one way or the other, depend on subjective views on the artistic expression we call salsa, on what we like, and on what we intend by salsa in the first place. But we can still say reasonable things about the matter and make the creative process clearer and possibly easier. What follows are some thoughts of mine, mostly borrowed from my maths background. I am sure all this must have been said already within the art or humanistic literature, and if you are aware of work in this area please let me know, so that I can learn more.
Read more articles...
Our DVDs
Salsa Timing Exercises
This program will help you solve your timing problems once and for all more..
4 DVDs -

$80

$70
---
Bachata Caribbean Style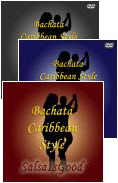 You have never seen Bachata danced this way.. You have never seen it look so good! more...
3 DVDs -

$80

$70
---
From Salsa to Mambo
Learn and practise all the essential footwork you need to dance On1, On2 and Cha Cha Cha more..
DVD - $30
---
Timing Exercises Vol 4
A little chachacha effort now, and you will have endless salsa fun forever! more..
DVD - $30
---
more products..