---
---
---
Today's Salsa CD reviews

Los Jovenes Clasicos del Son – Fruta Bomba :

The common image of Son is that of old, beautiful music, played by old, great musicians. This CD however, contains beautiful music played by young musicians; and it is Son at its best, a refreshing confirmation that you do not need to be 80plus to be a good Son artist and that Son, as a style, is still alive and kicking. All the musicians in this band are outstanding, and the singer and trumpet player are so impressive that they manage to stand out even among such talent. The result is a powerful, fresh sound, without sacrificing anything to the Son tradition. The name of the band truthfully summarises all this.

The songs themselves are very nice, and mostly original in the structure, not just recycled old ideas; some of them have a clear beat which will make then palatable to both beginner and intermediate dancers, while advanced ones will just be carried away by the overall intensity and quality. I like best "Yo me voy contigo", "Brujeria de que" and "Esa mujer, el traguito" while the romantic ones among you will also enjoy the bolero "Papa siempre tenerte" "and the ballad "Una chula en la habana" .18-6-07.
Read more Salsa and Mambo CD reviews...
Today's Salsa DVD reviews

Salsafix and Edie the SalsaFreak - LA salsa Intermediate and Advanced
Level: Int/Adv
Style: LA
Content: 25 moves interpersed with interview of Jorge by Edie
Compared to the companion 'Beginner' DVD, this product not only maintains the same '2 for 1' concept of delivering quality instruction from 2 top dancers like Jorge and Edie, but also gives you plenty of material to work on with 25 turn patterns (!). Clearly dancers whose repertoire and knowledge is vast do not need to save their material.
The 25 turn patterns are all very short, 4 to 6 bars of music on average. This should be handy in order to both remember them and allow you to play with them by recombining with endless combinations. The emphasis of this DVD is Jorge's lead, since Edie presents him as one of the best leads in the world (BTW, Ally danced with him and we confirm that Edie is right). This is very well done, because after Jorge's explanation of what the lead should be, Edie adds to that by highlighting what makes that particular lead both effective and pleasant for the lady. In addition to this, a question-and-answer section between Edie and Jorge, allows to delve into the philosophy and frame of mind in which a guy needs to be in order to deliver his best lead.
The 25 turn patterns are not original, they all contain elements which can be considered standard in the salsa world. Having said that, I found the choice of the material not only appropriate for the audience this DVD targets, but also clever; the turn patterns could in principle be grouped into a few 'themes', according to which element they are built upon. In each 'theme', different combinations and variation are presented; understanding this, will allow you to make your dance diverse, even by using only a handful of ideas. The only weakness of the DVD, in my opinion, in that this concept is not explained, so these nuances may be lost to an unexperienced dancer. Similarly, and unlike the beginner DVD, there is little use of titling so you may not remember where you are in the DVD if you do not make ample use of the chapters via your remote control.
But, at the end of the day, these are details; what counts, for salsa maniacs as we all are, is how much salsa we get and its quality. And the answer to both questions in 'plenty'! A worthwhile buy.
Reviewed by Fabio from SalsaIsGood - Recommended
Read more Salsa and Mambo DVD reviews...
Salsa articles
On2? Which On2?

I am writing this post to all experienced salsa dancers out there, and in particular to all salsa instructors. I have a question which hopefully will spark an e-mail exchange from which I may understand a few things which are unclear to me. In order to put this into context, first a few 'facts'.

Fact 1 . Roughly speaking, most people dance salsa either On1, or On2 Modern Mambo (NY style) or On2 Classic Mambo (Puerto Rican style also similar to Cuban contratiempo). Today Modern Mambo is used more frequently than Classic Mambo at congresses and salsa classes around the world.. more...
The Salsa 10 Commandments:

1)You shall not dance out of time, 2) You shall not refuse a dance to a less advanced dancer , 3) You shall respect other dancers on the dance floor more...
Creativity, Style and Salsa:

How can I be creative in my dancing? How does SuperMario come up with his incredible moves? Did Eddie Torres invent NY style? What is style? Who creates a style? What does it mean to be creative anyway?

There are no objective answers to the above questions. They all, one way or the other, depend on subjective views on the artistic expression we call salsa, on what we like, and on what we intend by salsa in the first place. But we can still say reasonable things about the matter and make the creative process clearer and possibly easier. What follows are some thoughts of mine, mostly borrowed from my maths background. I am sure all this must have been said already within the art or humanistic literature, and if you are aware of work in this area please let me know, so that I can learn more.
Read more articles...
Our DVDs
Salsa Timing Exercises
This program will help you solve your timing problems once and for all more..
4 DVDs -

$80

$70
---
Bachata Caribbean Style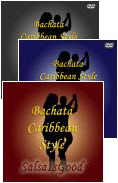 You have never seen Bachata danced this way.. You have never seen it look so good! more...
3 DVDs -

$80

$70
---
From Salsa to Mambo
Learn and practise all the essential footwork you need to dance On1, On2 and Cha Cha Cha more..
DVD - $30
---
Timing Exercises Vol 4
A little chachacha effort now, and you will have endless salsa fun forever! more..
DVD - $30
---
more products..