---
---
---
Today's Salsa CD reviews
Adalberto Alvares y su Son – El Son De Adalberto Suena Cubano

:

Music can express and deliver different feelings. The first 4 tracks of this CD communicate to me something very simple and genuine: happiness; and so much of it that even if the rest of the CD was poor, I would still be thankful of ever coming across it. But there is more: the rest of the CD is also as nice, which is why it ranks so high in my preference list.

Adalberto Alvarez has been synonym with Son Cubano for many decades, thanks to his contribution both as solo and with support bands like Son 14. This is fresh Son though, and it may sound like salsa if you are not very familiar with the subtleties of the different styles: the main harmonies are supported by a piano, rather than the traditional tres, and a full brass section plays in place of the traditional single trumpet. But what really makes all happen is the quality of the arrangement and the simplicity and immediacy of the melodies; the domineering voice of Amaris Galindo adds the last cherry to the already amazing cake. The first track, "Si No Fuera Por Las Mujeres" is actually closer to a Puerto Rican plena than to a Cuban song, and it may feel a bit too fast to dance as a salsa; "Mi Tumbao", "Buena Pero No Es Pa' tanto", "Hablando Como Extranjero" and "Amor A Primera Vista" emit their concentrated happiness at a slower pace, perfect to both enjoy and practise with. "Déjame Llorar", "Cuentas Verdes Y Amarillas", "Somos El Son De Cuba" and "Caprichosa" is perfect for dancing, though less happy than the rest. "Cuatro Sones De Adalberto" is a mix of old songs, as Adalberto Alvarez likes to include is his CDs and the closing track in a nice bolero. Mostly slower tempos, this is an ideal top-class CD to practise too, though if it makes you as happy as it does to me, you may lose focus and forget what you try to practise. 31-7-07
---
Read more Salsa and Mambo CD reviews...
Today's Salsa DVD reviews
Liza Nunziella - Red Hot Salsa 2
Level: Beg-Adv
Style: Cardio-Salsa
Content: Aerobic exercises based on salsa steps
General Comment: It is a sign of salsa's popularity that salsa aerobics classes are popping out in gyms and studios all over the world. It makes sense: salsa has an energetic rhythm, a suitably fast pace and, at least in theory, requires dancing with your entire body.
If you are not the gym type or if the gym is simply not enough for you, Liza brings Salsa cardio exercises at your place with this series of DVDs. She is a proficient teacher, dances and moves well, and does not spare energy in demonstrating the salsa sequences, or in prompting you verbally during them (which, so I am told, is useful in your daily exercises). In between the sequences, which all together cover some 45 minutes, you will also find sessions of stretching and relaxation. Some steps used in the sequences are explained separately and the occasional superimposed writing reminds you of fundamentals you need to keep in mind in order to perform the exercises correctly.
Dance wise, many of the movements are taken from the common salsa shines and body movements repertoire. This won't improve your partner dancing, but may help your timing by mere repetition and concentration on the music. Needless to say, from a style point of view, should you use any of these moves on the dance floor, it will help remembering you are not in a gym and energy may need trading with grace.
I am not an aerobic expert, but from what I see in the DVD, if cardio exercise is what you want you won't be disappointed by this product.

.Reviewed by: Fabio from SalsaIsGood Good
---
Read more Salsa and Mambo DVD reviews...
Salsa articles
On2? Which On2?

I am writing this post to all experienced salsa dancers out there, and in particular to all salsa instructors. I have a question which hopefully will spark ane-mailexchange from which I may understand a few things which are unclear to me. In order to put this into context, first a few 'facts'.

Fact 1 . Roughly speaking, most people dance salsa either On1, or On2 Modern Mambo (NY style) or On2 Classic Mambo (Puerto Rican style also similar to Cuban contratiempo). Today Modern Mambo is used more frequently than Classic Mambo at congresses and salsa classes around the world.. more...
The Salsa 10 Commandments:

1)You shall not dance out of time, 2) You shall not refuse a dance to a less advanced dancer , 3) You shall respect other dancers on the dance floor more...
Creativity, Style and Salsa:

How can I be creative in my dancing? How does SuperMario come up with his incredible moves? Did Eddie Torres invent NY style? What is style? Who creates a style? What does it mean to be creative anyway?

There are no objective answers to the above questions. They all, one way or the other, depend on subjective views on the artistic expression we call salsa, on what we like, and on what we intend by salsa in the first place. But we can still say reasonable things about the matter and make the creative process clearer and possibly easier. What follows are some thoughts of mine, mostly borrowed from my maths background. I am sure all this must have been said already within the art or humanistic literature, and if you are aware of work in this area please let me know, so that I can learn more.
Read more articles...
Our DVDs
Salsa Timing Exercises
This program will help you solve your timing problems once and for all more..
4 DVDs -

$80

$70
---
Bachata Caribbean Style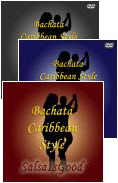 You have never seen Bachata danced this way.. You have never seen it look so good! more...
3 DVDs -

$80

$70
---
From Salsa to Mambo
Learn and practise all the essential footwork you need to dance On1, On2 and Cha Cha Cha more..
DVD - $30
---
Timing Exercises Vol 4
A little chachacha effort now, and you will have endless salsa fun forever! more..
DVD - $30
---
more products..