---
---
---
Today's Salsa CD reviews
Adalberto Alvares y su Son – Gozando en la Habana

:

Adalberto Alvarez has developed his own formula a while ago and he applies it faithfully. In particular the formula has been last updated with the CD 'Bailando Casino' and this Gozando En La Habana is very much its sibling; so if you liked dancing to 'Bailando Casino' you will surely enjoy this one too, as long as you do not expect surprises. This is son, of course, played by a full band, with rich arrangements and good, very good musicians.
This first track, which gives the name to the CD, simply begs to be danced, with a catchy melody and the right pace it is perfect for your cuban style. "Amore de mentira" is also a nice son, suitable for both a club and for a dance practise. Camina y Prende el Fogan is a much slower song which you may either use to practise your difficult moves or as a cha cha cha. Don't miss out on the gorgeous solo piano here.

| Title | Style | Speed/Pace | Our rank |
| --- | --- | --- | --- |
| Gozando en la habana | Son | Medium | 5* |
| Amor de mentira | Son | Medium | 4* |
| Poupurrit de los 90 | Son | Medium | 3* |
| Camina y prende el fogan | Son | Medium | 4* |
| La mania de caridad | Son | Medium | 4* |
| Hasta aqui llego este amor | Bolero | Medium | 3* |
| Poupurrit de los 80 | Son | Medium | 4* |
| Que voy a hacer muchacho | Son | Slow | 3* |
| Si no vas a bailar | Son | Medium | 4* |
---
Read more Salsa and Mambo CD reviews...
Today's Salsa DVD reviews
Cultural Explosion -
Level: Advanced
Style: NY
Content: Nice NY figures.
General Comment: Another good video, very similar in style and structure to the first one. The figures are more advanced (= more spins!). If you liked the first one you may very well check this one as well.
Reviewed by : Fabio from SalsaIsGood - Recommended
---
Read more Salsa and Mambo DVD reviews...
Salsa articles
On2? Which On2?

I am writing this post to all experienced salsa dancers out there, and in particular to all salsa instructors. I have a question which hopefully will spark ane-mailexchange from which I may understand a few things which are unclear to me. In order to put this into context, first a few 'facts'.

Fact 1 . Roughly speaking, most people dance salsa either On1, or On2 Modern Mambo (NY style) or On2 Classic Mambo (Puerto Rican style also similar to Cuban contratiempo). Today Modern Mambo is used more frequently than Classic Mambo at congresses and salsa classes around the world.. more...
The Salsa 10 Commandments:

1)You shall not dance out of time, 2) You shall not refuse a dance to a less advanced dancer , 3) You shall respect other dancers on the dance floor more...
Creativity, Style and Salsa:

How can I be creative in my dancing? How does SuperMario come up with his incredible moves? Did Eddie Torres invent NY style? What is style? Who creates a style? What does it mean to be creative anyway?

There are no objective answers to the above questions. They all, one way or the other, depend on subjective views on the artistic expression we call salsa, on what we like, and on what we intend by salsa in the first place. But we can still say reasonable things about the matter and make the creative process clearer and possibly easier. What follows are some thoughts of mine, mostly borrowed from my maths background. I am sure all this must have been said already within the art or humanistic literature, and if you are aware of work in this area please let me know, so that I can learn more.
Read more articles...
Our DVDs
Salsa Timing Exercises
This program will help you solve your timing problems once and for all more..
4 DVDs -

$80

$70
---
Bachata Caribbean Style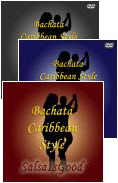 You have never seen Bachata danced this way.. You have never seen it look so good! more...
3 DVDs -

$80

$70
---
From Salsa to Mambo
Learn and practise all the essential footwork you need to dance On1, On2 and Cha Cha Cha more..
DVD - $30
---
Timing Exercises Vol 4
A little chachacha effort now, and you will have endless salsa fun forever! more..
DVD - $30
---
more products..