---
---
---
Today's Salsa CD reviews
Orquestra Aragon – Por Siempre

:

Another long standing living myth of Cuban music. If the longevity of Orquestra Reve' and Los Van Van is already astonishing for western standards, nothing compares with a band which has been around since 1939! This CD is a compilation of their hits, most of which are very old. And make no mistake, the CD does not come with nay make up, face lifting and hair colour to mask its age, you will notice from the very first notes that this is grandpa's music. The reason this CD does not deserve to be relegated to a dusty museum is that so many of these tracks are classics, which you have surely already danced in more recent versions; plus, of course, the music is nice. The sound impact of very different from more recent latin bands: the piano and bass are very tamed and most of the harmonies are delegated to the violins; in place of the traditional powerful brass section dialoguing with the lead singer here we have a masterful single flute, quite bizarre for today's standards, so the high pitches of the flute and the violins create the impact which will lead you all through the CD. And not much power.. those were not the days yet for it.

This CD will be mostly enjoyed by Cha-Cha-Cha lovers, since this is Orquestra Aragon trademark and there are so many here; they are not powerful but joyful and fun to dance to. Strictly salsa lovers will find only two tracks "El Paso De Encarnacion" and the cumbia-ish "Yo No Bailo Con Juana", but, at least the first one, is a must. A good CD to have to give variety and touch of history to your collection. 24-9-07
---
Read more Salsa and Mambo CD reviews...
Today's Salsa DVD reviews
Santo Rico - Ladies styling/spinning II
Level: Int-Adv
Style: NY
Content: Spinning technique and styling.
General Comment:Even in the Mecca of salsa, NY, where quadruple spins are taken for granted, people say that no one spins like the Santorico dancers! Very similar in structure to Vol 1, this DVD aims to bring to the world this famous spinning technique, together with the flashy, flamboyant and eccentric style which is also Santorico's trademark. The DVD includes a warm up/body isolation session, various spinning exercises and a set of styling exercises most of which also include double or other multiple spins. While the spinning technique is something you can take to the dance floor (and if you succeed it may allow you to become the envy of the local club) the styling may be better suited for the glamour of the stage, but you will be best placed to decide for yourself. The teaching is at a good pace, without too many details and is carried out with the help of 3 different dancers. A short demo from Thomas with one of the helper instructors shows what the technique can achieve.. and will surely motivate you to learn!
Reviewed by Fabio from SalsaIsGood - Good
---
Read more Salsa and Mambo DVD reviews...
Salsa articles
On2? Which On2?

I am writing this post to all experienced salsa dancers out there, and in particular to all salsa instructors. I have a question which hopefully will spark ane-mailexchange from which I may understand a few things which are unclear to me. In order to put this into context, first a few 'facts'.

Fact 1 . Roughly speaking, most people dance salsa either On1, or On2 Modern Mambo (NY style) or On2 Classic Mambo (Puerto Rican style also similar to Cuban contratiempo). Today Modern Mambo is used more frequently than Classic Mambo at congresses and salsa classes around the world.. more...
The Salsa 10 Commandments:

1)You shall not dance out of time, 2) You shall not refuse a dance to a less advanced dancer , 3) You shall respect other dancers on the dance floor more...
Creativity, Style and Salsa:

How can I be creative in my dancing? How does SuperMario come up with his incredible moves? Did Eddie Torres invent NY style? What is style? Who creates a style? What does it mean to be creative anyway?

There are no objective answers to the above questions. They all, one way or the other, depend on subjective views on the artistic expression we call salsa, on what we like, and on what we intend by salsa in the first place. But we can still say reasonable things about the matter and make the creative process clearer and possibly easier. What follows are some thoughts of mine, mostly borrowed from my maths background. I am sure all this must have been said already within the art or humanistic literature, and if you are aware of work in this area please let me know, so that I can learn more.
Read more articles...
Our DVDs
Salsa Timing Exercises
This program will help you solve your timing problems once and for all more..
4 DVDs -

$80

$70
---
Bachata Caribbean Style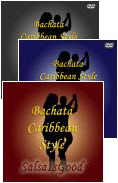 You have never seen Bachata danced this way.. You have never seen it look so good! more...
3 DVDs -

$80

$70
---
From Salsa to Mambo
Learn and practise all the essential footwork you need to dance On1, On2 and Cha Cha Cha more..
DVD - $30
---
Timing Exercises Vol 4
A little chachacha effort now, and you will have endless salsa fun forever! more..
DVD - $30
---
more products..