---
---
---
Today's Salsa CD reviews
Orquesta Borinquen – Pa' Que Tu Lo Sepas
This latest album from Orquesta Borinquen, Pa' Que Tu Lo Sepas, delivers a salsa dancer's dream from a traditional salsa band in 2018: nice music rooted in the salsa/mambo tradition with ever improving technical skills in both musicianship and sound recording. In other words, the band takes the best of what modernity can offer without compromising its music signature. The result is a variety of salsa (plus a bolero and cha-cha-cha/descarga) which both DJs and dance teachers can offer to both novices and experienced dancers alike. Novices will find themselves at ease with the clear beat and experienced dancers will tune into the brilliant, rich, but never overwhelming, arrangements. Indeed, the arrangements and their executions are impressive, providing the cherry on the cake of this album.
From a dancer's perspective, the salsa on this CD come with a consistent sound married with diverse aftertastes: 'romantica' in 'Ay Negra' and 'Ella Es', salsa dura in 'Americano Latino', 'Puerto Rican' in 'Yo Tengo una Cura' and 'Señor Maracas' and even a feel of timba in 'Carolina'. There is also a salsa in English on 'Never Knew I Needed'. If the latter is not your taste, don't turn the CD off, because a gem is to come. The final track of the CD is a fantastic bolero, as good as any bolero of the golden age, magnificently sung. All their music and more information can be found at www.orquestaborinquen.com
Well done Orquesta Borinquen!
---
Orquestra Aragon – Por Siempre

:

Another long standing living myth of Cuban music. If the longevity of Orquestra Reve' and Los Van Van is already astonishing for western standards, nothing compares with a band which has been around since 1939! This CD is a compilation of their hits, most of which are very old. And make no mistake, the CD does not come with nay make up, face lifting and hair colour to mask its age, you will notice from the very first notes that this is grandpa's music. The reason this CD does not deserve to be relegated to a dusty museum is that so many of these tracks are classics, which you have surely already danced in more recent versions; plus, of course, the music is nice. The sound impact of very different from more recent latin bands: the piano and bass are very tamed and most of the harmonies are delegated to the violins; in place of the traditional powerful brass section dialoguing with the lead singer here we have a masterful single flute, quite bizarre for today's standards, so the high pitches of the flute and the violins create the impact which will lead you all through the CD. And not much power.. those were not the days yet for it.

This CD will be mostly enjoyed by Cha-Cha-Cha lovers, since this is Orquestra Aragon trademark and there are so many here; they are not powerful but joyful and fun to dance to. Strictly salsa lovers will find only two tracks "El Paso De Encarnacion" and the cumbia-ish "Yo No Bailo Con Juana", but, at least the first one, is a must. A good CD to have to give variety and touch of history to your collection. 24-9-07
---
Read more Salsa and Mambo CD reviews...
Today's Salsa DVD reviews
Hacha y Machete - Turn Patterns Int-Adv, Vol 1
Level: Int-Adv
Length: 90 minutes
Style: NY
Content: Turn Patterns
General Comment: We can safely expect quality from HyM and this is what you get from this DVD: eight turn patterns from one of the best performing couples currently around. If you think that eight turn patterns are not that many fear not, since each pattern is 14-16 bars of music long, basically a mini-sequence in itself; the result is that the amount of material easily outperforms most salsa DVDs.
I like the turn patterns a lot: all the ingredients of NY salsa are there, as well as interesting novel ideas; and everything is well seasoned with the well-known HyM elegance.
According to the instructors, this DVD is for intermediate-advanced dancers, but, depending on where you learnt your salsa, the material contained can easily challenge expert dancers. As far as I can see the turn patterns look fairly leadable, with no need of much memory.
Coming to the technicalities, this is NY style, on 2, with some Cuban influence in the arm work and some occasional passages. The DVD is filmed with a single fixed camera, but the dancers show all figures from two sides so you will be able to follow all details as needed. The turn patterns are first introduced, then explained with comments by both the leader and the follower and finally executed with fast (quite fast actually) music.
All the specific technical details (turns and footwork) needed to execute the turn patterns are explained at the very beginning of the DVD, so, in principle, you can start learning them geared with all the necessary tools. This is in principle, because the explanations are compressed to the bare minimum and you will have to do some work and thinking to put the pieces together and understand exactly which footwork goes where. This may be the only criticism to HyM production, but, as usual, less explanation means more time for content, and what is in this DVD surely compensates for the small drawback. A recommended buy.
Reviewed by: Fabio from SalsaIsGood Recommended
---
Read more Salsa and Mambo DVD reviews...
Salsa articles
On2? Which On2?

I am writing this post to all experienced salsa dancers out there, and in particular to all salsa instructors. I have a question which hopefully will spark an e-mail exchange from which I may understand a few things which are unclear to me. In order to put this into context, first a few 'facts'.

Fact 1 . Roughly speaking, most people dance salsa either On1, or On2 Modern Mambo (NY style) or On2 Classic Mambo (Puerto Rican style also similar to Cuban contratiempo). Today Modern Mambo is used more frequently than Classic Mambo at congresses and salsa classes around the world.. more...
The Salsa 10 Commandments:

1)You shall not dance out of time, 2) You shall not refuse a dance to a less advanced dancer , 3) You shall respect other dancers on the dance floor more...
Creativity, Style and Salsa:

How can I be creative in my dancing? How does SuperMario come up with his incredible moves? Did Eddie Torres invent NY style? What is style? Who creates a style? What does it mean to be creative anyway?

There are no objective answers to the above questions. They all, one way or the other, depend on subjective views on the artistic expression we call salsa, on what we like, and on what we intend by salsa in the first place. But we can still say reasonable things about the matter and make the creative process clearer and possibly easier. What follows are some thoughts of mine, mostly borrowed from my maths background. I am sure all this must have been said already within the art or humanistic literature, and if you are aware of work in this area please let me know, so that I can learn more.
Read more articles...
Our DVDs
Salsa Timing Exercises
This program will help you solve your timing problems once and for all more..
4 DVDs -

$80

$70
---
Bachata Caribbean Style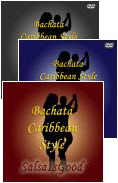 You have never seen Bachata danced this way.. You have never seen it look so good! more...
3 DVDs -

$80

$70
---
From Salsa to Mambo
Learn and practise all the essential footwork you need to dance On1, On2 and Cha Cha Cha more..
DVD - $30
---
Timing Exercises Vol 4
A little chachacha effort now, and you will have endless salsa fun forever! more..
DVD - $30
---
more products..