---
---
---
Today's Salsa CD reviews

Pupy y Los Que Son Son - Que cosas tiene la vida :

Pupi has made his name as pianist of Los Van Van. On top of playing he piano, and developing his own piano tumbao style, he has also contributed many songs and arrangements to Los Van Van repertoir over the years, and occasionally produced solo albums. While, more recently, Los Van Van spent 5 years without new albums (between LLego Van Van and Chapeando), Pupi left the band, formed a new one and gave us an impressive string of closely released CDs; one better than the other.

The first impact with Pupi's music may be a shock, a pure avalange of music and power. It may also be intimidating, since the impression is that all instruments play at full power, all together, all the time. Obviously, it is not the case, and the arrangements are cleverly designed and often brilliant. However, if you are a beginner salsa dancers and you are still hesitating in finding the timing to dance to, this will not make your life easy; it is timba at its best, but with no economy of ideas and musical virtuosity. But.. !! If you are an advanced dancer, and in general you like Cuban music, you will be in paradise and you will be able to enjoy this whether dancing is all you care or whether you like to listen to music with the ear of a musician. Pupi is a 'senior' musician but, thanks to his reputation, he has surrounded himself with young talents, the best of the best, and his music appeals to everyone in Cuba, and young and former-young alike.

While most old style timba songs have the peculiarity of starting slow, with a melodic intro, and suddenly breaking in a powerful tumbao, where all the energy of the song gets released, most of Pupi's songs hits you with maximum impact from the very first note: no messing around.. just getting straight to the point. The first track, 'Que cosas tiene la vida' is a perfect example: "If you don't dance to this one, you won't dance to anything" the introductory lyrics make the point very explicitly! "El gato amaga y no arena" is catchy, pure enjoinment to dance to (and even funny if you can understand the lyrics) with the voice of Tirso Duarte as an unexpected extra gift. "Manita portate bien' short-circuits my brain.. the combination of the arrangements and the surprising harmonies prevent me to think and take me directly to Lah-Lah land: Pupi at its best. 'La bomba so yo; is a reprise from a classic from Los Van Van. El pregonero', 'Juegala' and 'Hoy se sumplen seis semanas' are also powerful songs, quite fast to dance to, while 'Te molesta que sea feliz' is a beautiful, more 'serious' song decorated once again by the great voice of Tirso Duarte and by masterful arrangements. Not a single track will disappoint you; let's hope Pupi will continue delivering such masterpieces for many years.. 6-8-07
Read more Salsa and Mambo CD reviews...
Today's Salsa DVD reviews

Eric Freeman - ¡Salsa a la Cubana! Original Series
Level: Intermediate/Advanced
Style: Pure Cuban
Content: 3 Videos, one demonstration, 2 instructional. Plenty of material.
General Comment: This series is a MUST. Cuban salsa taught and demonstrated by top Cuban dancers from Santiago and Havana. The first volume contains only demonstrations. You will see several couples and several styles. If you are skilled and you know how to use the slow motion command in your player you will be able to extract plenty of cool figures from this demos. The other two volumes are mainly instructional, for beginners the first, an for intermediate to advanced the second. All figures are shown first with music from two angles, and then slowly with vocal counting.After watching and enjoying the videos for years I finally met most of the instructors in person.. Eric choose them very well! These series will be appreciated by both Cuban style dancer who want to improve, as well as NY/LA dancers who want to discover what Cuban salsa is about.. It is really authentic and a Must in your collection.
Reviewed by Fabio from SalsaIsGood - Recommended
General Comment: Volume 1. This video presents basic Cuban salsa step and basic dance combinations. Instructors from Santiago de Cuba demonstrate technique of leading and following and also explain how the dancers move around each other and around the dance floor when dancing Cuban style. However, some might find it a bit disappointing that these useful explanations are given only in Spanish. This video is great for those who want the get a real feel of Cuban style.
Reviewed by Thea - Recommended
General Comment: Volume 2. This video consists of two main parts: the first part demonstrates the ways of decorating and enriching your Cuban basic step with twists, shuffles and kicks for both men and women. Watching this part of the video you will see that the basic step can be much more then "basic". In the second part of the video, the Cuban instructors show and explain quite complicated figures and also put them together in a very nicely performed sequence. I would recommend this instructional video for intermediate and advanced dancers.
Reviewed by Thea - Good
Read more Salsa and Mambo DVD reviews...
Salsa articles
On2? Which On2?

I am writing this post to all experienced salsa dancers out there, and in particular to all salsa instructors. I have a question which hopefully will spark an e-mail exchange from which I may understand a few things which are unclear to me. In order to put this into context, first a few 'facts'.

Fact 1 . Roughly speaking, most people dance salsa either On1, or On2 Modern Mambo (NY style) or On2 Classic Mambo (Puerto Rican style also similar to Cuban contratiempo). Today Modern Mambo is used more frequently than Classic Mambo at congresses and salsa classes around the world.. more...
The Salsa 10 Commandments:

1)You shall not dance out of time, 2) You shall not refuse a dance to a less advanced dancer , 3) You shall respect other dancers on the dance floor more...
Creativity, Style and Salsa:

How can I be creative in my dancing? How does SuperMario come up with his incredible moves? Did Eddie Torres invent NY style? What is style? Who creates a style? What does it mean to be creative anyway?

There are no objective answers to the above questions. They all, one way or the other, depend on subjective views on the artistic expression we call salsa, on what we like, and on what we intend by salsa in the first place. But we can still say reasonable things about the matter and make the creative process clearer and possibly easier. What follows are some thoughts of mine, mostly borrowed from my maths background. I am sure all this must have been said already within the art or humanistic literature, and if you are aware of work in this area please let me know, so that I can learn more.
Read more articles...
Our DVDs
Salsa Timing Exercises
This program will help you solve your timing problems once and for all more..
4 DVDs -

$80

$70
---
Bachata Caribbean Style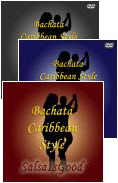 You have never seen Bachata danced this way.. You have never seen it look so good! more...
3 DVDs -

$80

$70
---
From Salsa to Mambo
Learn and practise all the essential footwork you need to dance On1, On2 and Cha Cha Cha more..
DVD - $30
---
Timing Exercises Vol 4
A little chachacha effort now, and you will have endless salsa fun forever! more..
DVD - $30
---
more products..