---
---
---
Today's Salsa CD reviews

Los Van Van - Te Pone la Cabeza Mala :

When I first came across a CD from Los Van Van many years ago, I could not understand what all the big fuss was about with this group, apparently the most famous in Cuba for over 30 years. Then I bought "Te pone la cabeza mala", listened to it a few times and fell in love with it! It has become my favourite salsa CD and one that I never tire of. I was initially unused to Cuban music and I needed to get used to a new sound. The music from Los Van Van stands apart from all other salsa music and as with most original works, either you love it or you hate it. Lovers of Cuban music will surely know Los Van Van very well already. Lovers of Puerto Rican, NY or LA salsa may have had only a passing contact with it and may have found it at least unusual. There are a number of reasons for this. First, the sound; Juan Formell a while ago introduced a combination of two trombones and two violins to support the harmony, which is not common in recent Cuban music (post-charanga, I mean). Also the percussions are reinforced by a full drum, common in timba (thanks to Lov Van Van!) but not in non-cuban salsa. Add to this the magical piano riffs of Pupi, and the result is an quite unusual sound. Second, the structure of the music. Most tracks tend to start fairly mellow, with a semi-romantic intro, in which the singer usually tells a story, then they suddenly break in the tumbao, which increase considerably in power. This change of power is far stronger than in non-cuban salsa. Dancers may have to wait for that break in order to increase the energy in the dance. Third, but this is more subtle, Juan Formell does not just writes salsas, he writes songs; most of the tracks have a melody structure which you can easily memorise and could stand by itself even if it was not played as salsa; in other words they are not just about rhythm. As if all this was not enough to enjoy the CD, three among the very best voices of the salsa world sing in this CD, from the young and exuberant Mayito Rivera, to the infinitely deep Roberto "Guayacán" Hernández (my favourite in absolute) to the experienced Pedrito Calvo.

Dancers who are after power will enjoy the opening track from the CD ("Te pone la cabeza mala') as well as "Ni Bombones Ni Caramelo" and "El Tren Se Va" (pure energy!). "Levala A Tu Vacilon" has a more relaxed pace, but also forces you to move your feet (curiously I noticed experienced ballroom and salsa dancers finding it difficult to tune to its rhythm, which seems quite innocuous to me). "La Que Deja Sebastian" "La Shopimaniaca", "Que Pasa Con Ella", "Ella Tiene Algo Que No Se" are slower and often used by intermediate rueda groups for their clear beat. Each single song deserves a full 5 stars.. unbeatable CD
Read more Salsa and Mambo CD reviews...
Today's Salsa DVD reviews

Juliet McMains - Salsa Styling for Ladies Vol 1
Level: Beginners
Style: LA On 1
Content: Basic Techniques; Posture; Body Tone; Basic Action: feet, knees and hips; Rhythm; Connection to Partner; Body Isolations; Basic Arm Styling; Turn Techniques: simple and advanced spot turns, basic and advanced double spot turns, progressive turns, XBL with inside turn; Dip techniques
General Comment: Most ladies' styling videos are aimed at ladies who have been dancing for a while and have developed the confidence to start adding styling. Many of them show flashy embellishments which take some time to learn. This video could be used right from the first salsa class and encourages ladies to think about styling in terms of the way they move when they dance, so that not only will they look good but they will be able to more easily follow moves lead by their partner. There is a lot of material in this DVD and demonstrations both with and without a partner. The explanations are clear and precise. Juliet also demonstrates how to do many of the moves the wrong way so that students may recognise these as they practice in front of the mirror and avoid common mistakes. This is very useful video for beginners.
Reviewed by Ally - Recommended
Read more Salsa and Mambo DVD reviews...
Salsa articles
On2? Which On2?

I am writing this post to all experienced salsa dancers out there, and in particular to all salsa instructors. I have a question which hopefully will spark an e-mail exchange from which I may understand a few things which are unclear to me. In order to put this into context, first a few 'facts'.

Fact 1 . Roughly speaking, most people dance salsa either On1, or On2 Modern Mambo (NY style) or On2 Classic Mambo (Puerto Rican style also similar to Cuban contratiempo). Today Modern Mambo is used more frequently than Classic Mambo at congresses and salsa classes around the world.. more...
The Salsa 10 Commandments:

1)You shall not dance out of time, 2) You shall not refuse a dance to a less advanced dancer , 3) You shall respect other dancers on the dance floor more...
Creativity, Style and Salsa:

How can I be creative in my dancing? How does SuperMario come up with his incredible moves? Did Eddie Torres invent NY style? What is style? Who creates a style? What does it mean to be creative anyway?

There are no objective answers to the above questions. They all, one way or the other, depend on subjective views on the artistic expression we call salsa, on what we like, and on what we intend by salsa in the first place. But we can still say reasonable things about the matter and make the creative process clearer and possibly easier. What follows are some thoughts of mine, mostly borrowed from my maths background. I am sure all this must have been said already within the art or humanistic literature, and if you are aware of work in this area please let me know, so that I can learn more.
Read more articles...
Our DVDs
Salsa Timing Exercises
This program will help you solve your timing problems once and for all more..
4 DVDs -

$80

$70
---
Bachata Caribbean Style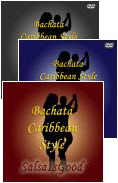 You have never seen Bachata danced this way.. You have never seen it look so good! more...
3 DVDs -

$80

$70
---
From Salsa to Mambo
Learn and practise all the essential footwork you need to dance On1, On2 and Cha Cha Cha more..
DVD - $30
---
Timing Exercises Vol 4
A little chachacha effort now, and you will have endless salsa fun forever! more..
DVD - $30
---
more products..