---
---
---
Today's Salsa CD reviews

Henry Fiol – Guaperia :

This music is Son, you will hear it from the band formation, from the sound, based mostly on guitar and tres, from the relaxed melodies and the paced tempo. Still, if you are used to Cuban Son, it will sound different, partly because of the songs which have a ballad feel but mostly because of Henry Fiol's peculiar voice and unmistakable singing style: his voice is gentle, almost frail, more melodic than rhythmic, possibly more prone to tell stories than to kick you out of a chair and make you dance.

The first few times you listen to his CDs you will most likely find a sense of homogeneous continuity in the music. It is the result of using the same arrangements, similar tempo and very similar harmonies based on simple 2 or 4 chords passages, on which Henry Fiol's melodies tell often interesting or funny stories. This is a fancy way to say that all songs sound very much alike if you miss the lyrics.

All this does not suggest much appeal for a dancer and I have to admit this music is not my cup of tea. Nevertheless, one or two of his CDs may come handy to beginners or intermediate dancers. First the rhythm is very clear, conga and clave are unmistakable and overall this music comes as close to salsa 101 as you can possibly hope. Secondly, the regular and un-intrusive pace makes it ideal for practise and I still use it occasionally myself if I need to practise some passages which require attention and I do not want to be carried away my the music. For the very same reasons this music may come handy to salsa instructors both for group and private classes.

This is the CD from Henry Fiol I end up using most often for my practises, probably because a bit more lively than others or simple because I like it best. "De guatebuena a guatemejor", "No comprendo las mujeres", "De la mano a la boca", "Guapo fantoma", "Moforibale al tambo" and "Guaperia" are the tracks I enjoy the most, with "No comprendo las mujeres", "De la mano a la boca" and "Guaperia" the most suitable to beginner dancers struggling to find the time in salsa. As in all other CDs from Henry Fiol, you will find some Son Montunos which you can use to dance Cha Cha Cha, in this case "El huerfanito" and "No te bañes en el yumuri". If you are willing to give a try to just one CD from Henry Fiol, I would recommend this one.18/5/08
Read more Salsa and Mambo CD reviews...
Today's Salsa DVD reviews

West Coast Salsa Congress - 7th West Coast Salsa Congress 2005
Level: Beg-Adv
Style: Any
Content: Performances.
General Comment: I am not a fan of performances and I am not a fan of big congresses, but this set of DVDs is great. To me, watching the LA congress DVDs is like watching the olympic games or the soccer world cup: a display of all the stars, as well as the future ones, from everywhere around the world, giving their very best. Th ese 4 DVDs contain some 8 hours of performances and, as you can expect, plenty of variety; California is widely represented, for geographical reasons, but you will also see plenty of NY and PR, many other US cities, Italy , Spain , Japan , Korea , Singapore , Venuezuela , Mexico , Holland , Australia .. you name it.. and all age groups, from kids who will you speechless to a lady who could very well be our grandma performing acrobatics which would leave me hopelessly paraplegic.. The quality is very, very high; go and compare with the very first LA salsa congress tape, and you will realise what progress has been made in less than a decade.. Q uite astonishing; maybe in 40-50 years people will talk about this era as a remarkable blossoming of creativity and technique in L atin dancing. But to me, the best of all is to see how, even among an average of such high talent, the great still stand a span above all others, and there is no need for me to name them, as you will clearly see it yourself; a demonstration of the undefinable border between top technique and 'inner class'. If you have been to the congress you will probably have this DVD set as a souvenir, if you have not been, I suggest you buy it.
Reviewed by Fabio from SalsaIsGood - Recommended
Read more Salsa and Mambo DVD reviews...
Salsa articles
On2? Which On2?

I am writing this post to all experienced salsa dancers out there, and in particular to all salsa instructors. I have a question which hopefully will spark an e-mail exchange from which I may understand a few things which are unclear to me. In order to put this into context, first a few 'facts'.

Fact 1 . Roughly speaking, most people dance salsa either On1, or On2 Modern Mambo (NY style) or On2 Classic Mambo (Puerto Rican style also similar to Cuban contratiempo). Today Modern Mambo is used more frequently than Classic Mambo at congresses and salsa classes around the world.. more...
The Salsa 10 Commandments:

1)You shall not dance out of time, 2) You shall not refuse a dance to a less advanced dancer , 3) You shall respect other dancers on the dance floor more...
Creativity, Style and Salsa:

How can I be creative in my dancing? How does SuperMario come up with his incredible moves? Did Eddie Torres invent NY style? What is style? Who creates a style? What does it mean to be creative anyway?

There are no objective answers to the above questions. They all, one way or the other, depend on subjective views on the artistic expression we call salsa, on what we like, and on what we intend by salsa in the first place. But we can still say reasonable things about the matter and make the creative process clearer and possibly easier. What follows are some thoughts of mine, mostly borrowed from my maths background. I am sure all this must have been said already within the art or humanistic literature, and if you are aware of work in this area please let me know, so that I can learn more.
Read more articles...
Our DVDs
Salsa Timing Exercises
This program will help you solve your timing problems once and for all more..
4 DVDs -

$80

$70
---
Bachata Caribbean Style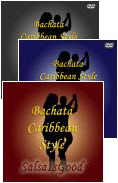 You have never seen Bachata danced this way.. You have never seen it look so good! more...
3 DVDs -

$80

$70
---
From Salsa to Mambo
Learn and practise all the essential footwork you need to dance On1, On2 and Cha Cha Cha more..
DVD - $30
---
Timing Exercises Vol 4
A little chachacha effort now, and you will have endless salsa fun forever! more..
DVD - $30
---
more products..