---
---
---
Today's Salsa CD reviews

Paulito FG- Con La Conciencia Tranquila :

Paulito FG is one of the big names in timba. He has been a hero in Cuban music for many years and he regularly releases well accepted hits. His music is good, his singing is good, the arrangements are good; the style original, fresh and modern. All is good, but somehow I have never been able to tune into it. I have been trying to review some of his music for months and I have been trying very hard today, but, no matter how I try, nothing comes out of my brain. I suppose this mirrors pretty well my feeling towards this CD, there is not thing wrong, nothing to dislike, but I rarely feel like loading it on my player.

There is quite a touch of pop in this timba, which I visualise as white as Paulito himself.. maybe that is the problem? Maybe not. "De La Habana", which closes the album, is my favourite track, the one I always feel like dancing to, but "Con La Conciencia Tranquila" and "Y San Toma Que" and also nice and catchy. Apart for "Desacuerdo", which is a pop ballad, all other tracks are romantic timbas. Bottom line, if you are in doubt whether to invest in Paulito's music, you may want to check the reviews from others, who may tune into this music better than I… after all there must be a reason if so many cubanos adore him, as I myself verified.3-1-08

Read more Salsa and Mambo CD reviews...
Today's Salsa DVD reviews

Al Espinoza - The Best of Liquid Silver Productions Vol 1
Level: Advanced
Style: LA/Millennium
Content: Liquid Silver Productions (LSP) Dance Company was created by Al "Liquid Silver" Espinoza and the routines in this video are a typical combination of Hip Hop, Pop Locking and Salsa in a compilation of their best performances. There are 10 performances featuring:* The Third Dimension; The Adams Family; The Pink Panther; Star Trek: the Borg; Bones on 1; Beatle Juice; King Tut; Crazy Crow; The Coalition; Batman and Catwoman; The Arcade
General Comment:These performances have all the hallmarks of the Al and Edie's combinations that most people either love or hate; amazing enhanced body movements showing Al's break-dancing background, Edie's spins which go for ever, the LA styling for which she has become famous and of course the acrobatics, all executed at breathtaking speed. The themes are all spectacular with extravagant costumes, props etc. I don't know how Al manages to dance covered with all that claustrophobic plastic but it doesn't seem to hamper him in any way. The other dancers in the company are very much clones of Al and Edie but then you would expect that. The shows are interspersed with Al's antics in the studio and his jokes and impersonations. Perhaps this is to show another side to his stage persona of being the ultimate professional. This is not an instructional DVD. Would certainly help a performance group to plan their own themes, costumes, choreography and stage presence.
Reviewed by Ally of SalsaIsGood - Good
General Comment: This is not an instructional DVD but rather a collection of some of the best shows choreographed by Al and Edie. Most are performed by Al and Edie themselves, others by larger dance teams and one by a young teenager couple. It includes three versions of the famous Arcade video clip and many other trademark futuristic or fairy-tale themes; for Al and Edie choreography tells a story and does not just showcase technical talent. The Hip-Hop Salsa combination is not my cup of tea so I won't rave about it. Also, Hip-Hop-Salsa looks more like Hip Hop and Salsa to me, constantly alternating but never mixing. But this is beside the point, since tastes are subjective. What is not subjective is the quality and professionalism of the performances. It is enough to admire the spotless synchronisation of the 2 parallel versions of the Arcade show towards the end of the DVD to wonder 'how did they do it?'. A good DVD to be entertained and get ideas if you need to choreograph your own show.
Reviewed by Fabio of SalsaIsGood - Good
Read more Salsa and Mambo DVD reviews...
Salsa articles
On2? Which On2?

I am writing this post to all experienced salsa dancers out there, and in particular to all salsa instructors. I have a question which hopefully will spark an e-mail exchange from which I may understand a few things which are unclear to me. In order to put this into context, first a few 'facts'.

Fact 1 . Roughly speaking, most people dance salsa either On1, or On2 Modern Mambo (NY style) or On2 Classic Mambo (Puerto Rican style also similar to Cuban contratiempo). Today Modern Mambo is used more frequently than Classic Mambo at congresses and salsa classes around the world.. more...
The Salsa 10 Commandments:

1)You shall not dance out of time, 2) You shall not refuse a dance to a less advanced dancer , 3) You shall respect other dancers on the dance floor more...
Creativity, Style and Salsa:

How can I be creative in my dancing? How does SuperMario come up with his incredible moves? Did Eddie Torres invent NY style? What is style? Who creates a style? What does it mean to be creative anyway?

There are no objective answers to the above questions. They all, one way or the other, depend on subjective views on the artistic expression we call salsa, on what we like, and on what we intend by salsa in the first place. But we can still say reasonable things about the matter and make the creative process clearer and possibly easier. What follows are some thoughts of mine, mostly borrowed from my maths background. I am sure all this must have been said already within the art or humanistic literature, and if you are aware of work in this area please let me know, so that I can learn more.
Read more articles...
Our DVDs
Salsa Timing Exercises
This program will help you solve your timing problems once and for all more..
4 DVDs -

$80

$70
---
Bachata Caribbean Style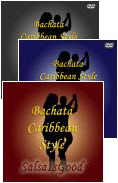 You have never seen Bachata danced this way.. You have never seen it look so good! more...
3 DVDs -

$80

$70
---
From Salsa to Mambo
Learn and practise all the essential footwork you need to dance On1, On2 and Cha Cha Cha more..
DVD - $30
---
Timing Exercises Vol 4
A little chachacha effort now, and you will have endless salsa fun forever! more..
DVD - $30
---
more products..