---
---
---
Today's Salsa CD reviews
Oscar D'Leon - Sonero del Mundo

:

5 to 10 years ago, no one would have started dancing salsa without going through Oscar D'Leon' music; together with Celia Cruz and the Buena Vista Social Club he would have been a basic component of everyone's salsa experience. Today he is a little bit less popular, which is a pity, but much of is music still deserves considerable respect. He has been around since ever, and his amazing voice is just as nice as it ever was. Early in his career his music would have surely be defined as 'tropical', later his salsa became more 'romantic', but not in the 'romantic salsa' meaning and style, simply because many of his songs tend to be romantic, in the lyrics as in the melody and feel.

Listening back to his music now, I get the feel it could be taken as perfect example of what 'classic' salsa is; very few surprises reach your ears, melodies are what you expect of salsa, the harmonies obvious to the extreme and the arrangements text-book like. Still, I never find it boring, simply 'right'. Because of this lack of surprise or challenge, it is well suited to beginner dancers: clear beat, often slowish pace and an un mistakable salsa taste.

This CD is typical of Oscar D'Leon's production during the 90s. Maybe a bit more commercial than others, maybe a bit more commercial than needed, but still a good aid for beginner and intermediate dancers. You will find slow tracks like "Mirala come se menea" and "Lastima que seas ajena", more normal pace like "Amor no se llama", "Mi gente" and "Que me quiten lo baila" and faster ones like "Cuando ya ne me querias" and "Orinoco" as well as two slow Cha Cha Chas, both very popular, "Traicionera" and "Volver a verte"; "Tu me olvidas" goes a little bit too far in commercial land for my tastes, but that can be forgiven.

Some 5 years ago I had the luck of seeing him live and I found his show one of the most powerful and compelling of my salsa experience. Some health problems occurred in the mean time, so I am not sure how his shows are now, but if he ever passes by your town, don't miss him.12-12-07
---
Read more Salsa and Mambo CD reviews...
Today's Salsa DVD reviews
Josie Neglia - Advanced Salsa Combinations - Disk 8 (with Alvaro Coronel)
Level: Beginners-Intermediate
Style: LA
Content: Turn Patterns
General Comment: This DVD was produced a few years ago and consequently looks a bit dated today; but we should remember that much of what we see in the salsa clubs today originated, partly, from the DVD series which Jose pioneered long ago. This is particularly true for ladies styling, and here you can enjoy this in its original form. The DVD contains 11 turn patterns, of clear LA style. The turn patterns are first demonstrated to counting, then broken down for the man's part, then for the lady's part and finally danced to music from 2 different angles. The production is good, the dancing too and so is the explanation. A good DVD to learn a few 'classic' moves.
Reviewed by Fabio from SalsaIsGood - Good
---
Read more Salsa and Mambo DVD reviews...
Salsa articles
On2? Which On2?

I am writing this post to all experienced salsa dancers out there, and in particular to all salsa instructors. I have a question which hopefully will spark ane-mailexchange from which I may understand a few things which are unclear to me. In order to put this into context, first a few 'facts'.

Fact 1 . Roughly speaking, most people dance salsa either On1, or On2 Modern Mambo (NY style) or On2 Classic Mambo (Puerto Rican style also similar to Cuban contratiempo). Today Modern Mambo is used more frequently than Classic Mambo at congresses and salsa classes around the world.. more...
The Salsa 10 Commandments:

1)You shall not dance out of time, 2) You shall not refuse a dance to a less advanced dancer , 3) You shall respect other dancers on the dance floor more...
Creativity, Style and Salsa:

How can I be creative in my dancing? How does SuperMario come up with his incredible moves? Did Eddie Torres invent NY style? What is style? Who creates a style? What does it mean to be creative anyway?

There are no objective answers to the above questions. They all, one way or the other, depend on subjective views on the artistic expression we call salsa, on what we like, and on what we intend by salsa in the first place. But we can still say reasonable things about the matter and make the creative process clearer and possibly easier. What follows are some thoughts of mine, mostly borrowed from my maths background. I am sure all this must have been said already within the art or humanistic literature, and if you are aware of work in this area please let me know, so that I can learn more.
Read more articles...
Our DVDs
Salsa Timing Exercises
This program will help you solve your timing problems once and for all more..
4 DVDs -

$80

$70
---
Bachata Caribbean Style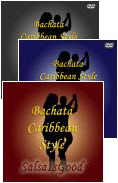 You have never seen Bachata danced this way.. You have never seen it look so good! more...
3 DVDs -

$80

$70
---
From Salsa to Mambo
Learn and practise all the essential footwork you need to dance On1, On2 and Cha Cha Cha more..
DVD - $30
---
Timing Exercises Vol 4
A little chachacha effort now, and you will have endless salsa fun forever! more..
DVD - $30
---
more products..