---
---
---
Today's Salsa CD reviews
Tiempo Libre - Lo Que Esperabas

:

Text book Timba from Cuban emigrants in Miami; if you are after a powerful and vibrant CD, with a contemporary sound and the bursting energy typical of Timba, you won't get disappointed. As a bonus, you will find a sound production of top quality, something which usually, in Timba, you find only with the very top bands: great musicians, and (not to be taken for granted in Cuban music) great brass section. So far so good.

If you want to be critical, you may notice that there is not much originality in this CD. Despite all track, except for one, are original, the music ideas, the arrangements and even the lyrics (not to mention the idea of the short instrumental Opening) are very much already part of the common Cuban repertoire.. the bottom line is that I believe this is an enjoyable CD, but not something you will remember in a few years time.. the band is surely able to deliver more and hopefully the next products will be a little less commercial.. the potential is surely there.

"Lo Que Esperabas", "La Llave", "Esto Esta Listo" and "Ella Tiene" are the most danceable tracks in the CD and by far my favourite. Also danceable are "A Bayamo En Coche" a cover from classic from Adalberto Alvarez and "Arrebatao", a sort of poppish cha cha cha. "Manos Pa'rriba" and "Ven A Bailar" are a bit too pop/funk for my tastes but can be enjoyed if you are not too fussy about salsa rhythms while "Tengo Que Olvidarte" is a slow ballad, possibly the least fortunate of the tracks.25/1/08

---
Read more Salsa and Mambo CD reviews...
Today's Salsa DVD reviews
Jai & Candy - Shines, Vol 1
Level: Intermediate-Advanced
Style: Pure NY
Content: NY style Shines.
General Comment: This video contains a number of shines, some demonstrated and explained by Jay, others by Candy. These are two very good dancers and the quality of material and demonstrations is thus very good. The shines do not include only footwork, but also a very strong body motion component, which makes them very interesting. Each shine is demonstrated from different angles and with the use of multiple windows, which allow to focus on the details of the footwork without losing track of the body motion and viceversa. The pace of the explanations is also nice, which allows you to follow easily. The cherry on top of an already nice video is the very end, when Jay and Candy show all the shines, interpreted by both of them, in a sort of show, as if they were challenging each other. This part is really great, since they show both the female and male version of all shines and the two dancers give their very best.. Top quality. The only weakness of the video is that the DVD does not seem to contain menus for navigation between shines. A fairly minor technical problems which does not diminish a video of very high quality.
Reviewed by Fabio from SalsaIsGood - Good
---
Read more Salsa and Mambo DVD reviews...
Salsa articles
On2? Which On2?

I am writing this post to all experienced salsa dancers out there, and in particular to all salsa instructors. I have a question which hopefully will spark an e-mail exchange from which I may understand a few things which are unclear to me. In order to put this into context, first a few 'facts'.

Fact 1 . Roughly speaking, most people dance salsa either On1, or On2 Modern Mambo (NY style) or On2 Classic Mambo (Puerto Rican style also similar to Cuban contratiempo). Today Modern Mambo is used more frequently than Classic Mambo at congresses and salsa classes around the world.. more...
The Salsa 10 Commandments:

1)You shall not dance out of time, 2) You shall not refuse a dance to a less advanced dancer , 3) You shall respect other dancers on the dance floor more...
Creativity, Style and Salsa:

How can I be creative in my dancing? How does SuperMario come up with his incredible moves? Did Eddie Torres invent NY style? What is style? Who creates a style? What does it mean to be creative anyway?

There are no objective answers to the above questions. They all, one way or the other, depend on subjective views on the artistic expression we call salsa, on what we like, and on what we intend by salsa in the first place. But we can still say reasonable things about the matter and make the creative process clearer and possibly easier. What follows are some thoughts of mine, mostly borrowed from my maths background. I am sure all this must have been said already within the art or humanistic literature, and if you are aware of work in this area please let me know, so that I can learn more.
Read more articles...
Our DVDs
Salsa Timing Exercises
This program will help you solve your timing problems once and for all more..
4 DVDs -

$80

$70
---
Bachata Caribbean Style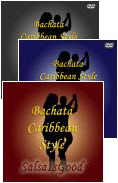 You have never seen Bachata danced this way.. You have never seen it look so good! more...
3 DVDs -

$80

$70
---
From Salsa to Mambo
Learn and practise all the essential footwork you need to dance On1, On2 and Cha Cha Cha more..
DVD - $30
---
Timing Exercises Vol 4
A little chachacha effort now, and you will have endless salsa fun forever! more..
DVD - $30
---
more products..