---
---
---
Today's Salsa CD reviews
Vocal Sampling – Una forma mas

:

This is a group made entirelly of vocalists, with no musical instruments. What in the 'western tradition' would probably be an 'a cappella' ensemble, or a endless display of vocal virtuosity, in Cuban hands becomes a full band (or a 'sampling' of it, as the name suggests), in which vocal acrobatics are used to reconstruct the full son or salsa band their music was originally designed for. In other words, we have singers 'singing' the percussion, the trombones and trumpets and occasionally even the bass.

What is remarkable about this band is that the end result is not just a mere curiosity, rather 'music' in its own right, to the point that it will make you feel like dancing just as much as a salsa band 'proper'. Whether you like this or not, I believe this CD can be a very good learning experience for intermediate salsa dancers, since it teaches so many important musical lessons. The first one is that the drive to dance is not generated by the power or loudness of the music (as all night club DJs seem to believe), rather by the structure of the song: replace the real conga and the real trombones by a voice, and, if the music is good, you will still enjoy dancing just as much. The second lesson comes from the attention you need to put on the underlying structure of the songs and in noticing how much certain rhythm patterns are inherent in the music, whether or not they are explicitly executed by a percussive instrument; this is why you will feel your dancing flowing so naturally to this 'percussion free' music collection. I used to use a number of these tracks for my own salsa practice, exactly for that reason.

It surely helped the success of this CD that Vocal Sampling included a set of classic Cuban songs, so that you can immediately map the original into this vocal variation. There is all you need here to enjoy and use for practicing.. from Son to Cha cha cha, to Rumba, Cumbia, Bolero and even Merengue… yes, you can be driven to dance merengue even without the pumping bass and guiding guiro!!

Most songs have a nice slow pace, which adds to their usefulness as practice material. 'Que Bueno Baila Usted', 'Una Forma Mas' (Sons), 'Del Caribe Vengo' (Merengue) and 'Canto Al Beny More' (Cha-Cha-Cha) are my favorites, but no single track will disappoint you.
---
Read more Salsa and Mambo CD reviews...
Today's Salsa DVD reviews
Jai & Candy - Shines, Vol 1
Level: Intermediate-Advanced
Style: Pure NY
Content: NY style Shines.
General Comment: This video contains a number of shines, some demonstrated and explained by Jay, others by Candy. These are two very good dancers and the quality of material and demonstrations is thus very good. The shines do not include only footwork, but also a very strong body motion component, which makes them very interesting. Each shine is demonstrated from different angles and with the use of multiple windows, which allow to focus on the details of the footwork without losing track of the body motion and viceversa. The pace of the explanations is also nice, which allows you to follow easily. The cherry on top of an already nice video is the very end, when Jay and Candy show all the shines, interpreted by both of them, in a sort of show, as if they were challenging each other. This part is really great, since they show both the female and male version of all shines and the two dancers give their very best.. Top quality. The only weakness of the video is that the DVD does not seem to contain menus for navigation between shines. A fairly minor technical problems which does not diminish a video of very high quality.
Reviewed by Fabio from SalsaIsGood - Good
---
Read more Salsa and Mambo DVD reviews...
Salsa articles
On2? Which On2?

I am writing this post to all experienced salsa dancers out there, and in particular to all salsa instructors. I have a question which hopefully will spark ane-mailexchange from which I may understand a few things which are unclear to me. In order to put this into context, first a few 'facts'.

Fact 1 . Roughly speaking, most people dance salsa either On1, or On2 Modern Mambo (NY style) or On2 Classic Mambo (Puerto Rican style also similar to Cuban contratiempo). Today Modern Mambo is used more frequently than Classic Mambo at congresses and salsa classes around the world.. more...
The Salsa 10 Commandments:

1)You shall not dance out of time, 2) You shall not refuse a dance to a less advanced dancer , 3) You shall respect other dancers on the dance floor more...
Creativity, Style and Salsa:

How can I be creative in my dancing? How does SuperMario come up with his incredible moves? Did Eddie Torres invent NY style? What is style? Who creates a style? What does it mean to be creative anyway?

There are no objective answers to the above questions. They all, one way or the other, depend on subjective views on the artistic expression we call salsa, on what we like, and on what we intend by salsa in the first place. But we can still say reasonable things about the matter and make the creative process clearer and possibly easier. What follows are some thoughts of mine, mostly borrowed from my maths background. I am sure all this must have been said already within the art or humanistic literature, and if you are aware of work in this area please let me know, so that I can learn more.
Read more articles...
Our DVDs
Salsa Timing Exercises
This program will help you solve your timing problems once and for all more..
4 DVDs -

$80

$70
---
Bachata Caribbean Style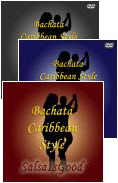 You have never seen Bachata danced this way.. You have never seen it look so good! more...
3 DVDs -

$80

$70
---
From Salsa to Mambo
Learn and practise all the essential footwork you need to dance On1, On2 and Cha Cha Cha more..
DVD - $30
---
Timing Exercises Vol 4
A little chachacha effort now, and you will have endless salsa fun forever! more..
DVD - $30
---
more products..