---
---
---
Today's Salsa CD reviews
Tirso Duarte – Fin de Juego

:

This is another offspring from la Charanga Habanera, although the influence here is less strong than in other artists. Tirso Duarte's talent is overwhelming, from his amazing voice to his unique piano playing we are left to wonder how so much skill ended up concentrated in a single person. And perhaps it is no surprise that so much talent lead to a very rich CD with its own flavour. For a full appreciation of the work you may need to listen to it more than once, from a musician's point of view there is so much to pick, on top of the voice and the piano playing, the harmonies are a continuum entertainment and so are the overall arrangements. For the dancers, this CD is less straightforward, since this is not text-book timba and the impact on your feet may not be that immediate. Dancers will probably enjoy tracks "Yo Soy Tu Papi", "La Cosa Mas Bella", "El Asesino" and "Maldito Dolor" best. Most tracks have a slow or medium pace except for tracks "Maldito Dolor" and "Ceci" which are markedly faster. Tracks "Fin Del Juego" and "La Cosa Mas Bella" also have a strong reggeaton influence, while tracks "Yo Soy Tu Papi" shows a Los Van Van influence and the romantic at heart will enjoy track "La Cosa Mas Bella", mostly to listen to, and tracks "El Asesino ", suitable to dance as well. A good CD, maybe lacking the edge to make it commercially popular but one worth listening to a few times. More suitable for experienced dancers than beginners since the salsa or timba beat are hidden behind the richly interleaved percussions.

| Title | Style | Speed/Pace | Our rank |
| --- | --- | --- | --- |
| La Madre María | Timba | Medium | 3* |
| Olvida La Pena | Reggaeton | | 3* |
| Fin Del Juego | Timba | Medium | 4* |
| Yo Soy Tu Papi | Timba | Slow | 4* |
| Regálame La Silla | Ballad | | 4* |
| El Chino Chulo | Timba/Reggaeton | Slow | 3* |
| La Cosa Mas Bella | Timba | Medium | 4* |
| El Asesino | Timba | Fast | 4* |
| Maldito Dolor | Timba | Fast | 3* |
| Ceci | Timba | Slow | 3* |
---
Read more Salsa and Mambo CD reviews...
Today's Salsa DVD reviews
Santo Rico - Ladies' style and spinning
Level: Intermediate
Style: NY
Content: Spinning technique and styling.
General Comment: Even the masters among the masters acknowledge that, when it comes to spinning technique, recognition must be given to the SantoRico school. Of course there are many ways to spin in salsa, basically one for every established dancer, but when you think of a big guy manoeuvring a smaller lady into those super-fast spins which make a lady disappears into a cartoon-like vortex, well, then you think of SantoRico. And unless you travel to NY, or you are lucky enough to find yourself at one of their rare congress appearances, then, this DVD is the only source for the magical recipe.
Once we have all agreed that this is a must buy for any salsa student, at least from a knowledge point of view, then we can be a little fussy and say that the production may have been better (the DVD I have seems a bit jerky, the details are not always clear and the voice over curiously out of sync with the image.. maybe it was just an unfortunate item) and that the excessive styling while demonstrating the spins makes it a little more difficult than it should be to work out the specific spinning technique. Nevertheless, all the ingredients are there: the prep, the spotting, the body posture and the basic exercises.
I find the styling part of the DVD a bit over the top, more for shows than for clubs and maybe a bit too regimented about how you 'should' look, but if you want to make sure you look like one of the SantoRico dancers, then the instruction is all there.
Needless to say, this is On2, NY style and you need to be at least intermediate to make the most of the DVD.
Reviewed by Fabio from SalsaIsGood - Good
---
Read more Salsa and Mambo DVD reviews...
Salsa articles
On2? Which On2?

I am writing this post to all experienced salsa dancers out there, and in particular to all salsa instructors. I have a question which hopefully will spark an e-mail (fabio@salsaisgood.com) exchange from which I may understand a few things which are unclear to me. In order to put this into context, first a few 'facts'.

Fact 1 . Roughly speaking, most people dance salsa either On1, or On2 Modern Mambo (NY style) or On2 Classic Mambo (Puerto Rican style also similar to Cuban contratiempo). Today Modern Mambo is used more frequently than Classic Mambo at congresses and salsa classes around the world.. more...
The Salsa 10 Commandments:

1)You shall not dance out of time, 2) You shall not refuse a dance to a less advanced dancer , 3) You shall respect other dancers on the dance floor more...
Creativity, Style and Salsa:

How can I be creative in my dancing? How does SuperMario come up with his incredible moves? Did Eddie Torres invent NY style? What is style? Who creates a style? What does it mean to be creative anyway?

There are no objective answers to the above questions. They all, one way or the other, depend on subjective views on the artistic expression we call salsa, on what we like, and on what we intend by salsa in the first place. But we can still say reasonable things about the matter and make the creative process clearer and possibly easier. What follows are some thoughts of mine, mostly borrowed from my maths background. I am sure all this must have been said already within the art or humanistic literature, and if you are aware of work in this area please let me know, so that I can learn more.
Read more articles...
Our DVDs
Salsa Timing Exercises
This program will help you solve your timing problems once and for all more..
4 DVDs -

$80

$70
---
Bachata Caribbean Style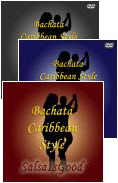 You have never seen Bachata danced this way.. You have never seen it look so good! more...
3 DVDs -

$80

$70
---
From Salsa to Mambo
Learn and practise all the essential footwork you need to dance On1, On2 and Cha Cha Cha more..
DVD - $30
---
Timing Exercises Vol 4
A little chachacha effort now, and you will have endless salsa fun forever! more..
DVD - $30
---
more products..