---
---
---
Today's Salsa CD reviews

Alfredo de la Fe - Salsa Passion :

This CD is less diverse than Latitudes, but you will still find several styles among the tracks.. here Alfredo de la Fe seems to be as comfortable with catchy and simple melodies as with exploring more daring jazz harmonies. In general this music does not drive me crazy and I often get this 'I heard this already' feel from much of the ideas presented. However, in the CD there is an exception and a real gem: "Hacha y Machete" is really a special track, which will satisfy the musician and the dancer equally (not a easy task) and I find dancing to it well along the way to Nirvana.

"Excelente Amante" is a romantic salsa in taste and lyrics and has a slow pace. "Barranquilla Es" is in typical Colombian style, and despite it has a faster tempo than "Excelente Amante" I think beginners will enjoy dancing to its clear beat. Apart for "Hacha y Machete" I find "La Mucura", "Negro Por Excelencia" and "Suena Tu Timbal" the most catchy and danceable tracks while I am less impressed by "Ya No Te Estoy Creyendo" and "Historia De Dos Salseros". "La Salsa Nacio Hace Tiempo" seems to have al ingredients to make it a success in most salsa clubs; for some reason I don't like it but that is my problem. For variety you will find a Cha Cha Cha in "N. N.", a ballad in "Tu Eres" and a cumbia feel in "La Cantaleta". 19/5/08
Read more Salsa and Mambo CD reviews...
Today's Salsa DVD reviews

Salsaddiction (Brian & Mechteld) - Advanced
Level: Adv
Style: On2
Content: Turn Patterns
General Comment: With exactly the same structure as their 'Intermediate' volume, Brain and Mechteld bring to us three more combinations each with variations, for a total of 10 turn patterns plus one shine. Most turn patterns are based on the idea of leaning the lady into sudden changes of directions. This is an idea which is elaborated cleverly both in the way it is lead, where the change of direction is placed and its general look and feeling. But the real value of the DVD, in my opinion, lies in simply looking at Brain and Mechteld dancing: I could do this for hours and I caught myself with a smile on my face while I admired the way Brian interprets the music with surprising simple body gestures.. for me that is worth the cost of the DVD in itself. I hope this couple will produce many, many more products. As the 'Intermediate' this DVD is also Danced on 2, this time to a very catchy timba groove and spoken in Dutch with English subtitles.
Reviewed by Fabio of SalsaIsGood - Reccomended
Read more Salsa and Mambo DVD reviews...
Salsa articles
On2? Which On2?

I am writing this post to all experienced salsa dancers out there, and in particular to all salsa instructors. I have a question which hopefully will spark an e-mail exchange from which I may understand a few things which are unclear to me. In order to put this into context, first a few 'facts'.

Fact 1 . Roughly speaking, most people dance salsa either On1, or On2 Modern Mambo (NY style) or On2 Classic Mambo (Puerto Rican style also similar to Cuban contratiempo). Today Modern Mambo is used more frequently than Classic Mambo at congresses and salsa classes around the world.. more...
The Salsa 10 Commandments:

1)You shall not dance out of time, 2) You shall not refuse a dance to a less advanced dancer , 3) You shall respect other dancers on the dance floor more...
Creativity, Style and Salsa:

How can I be creative in my dancing? How does SuperMario come up with his incredible moves? Did Eddie Torres invent NY style? What is style? Who creates a style? What does it mean to be creative anyway?

There are no objective answers to the above questions. They all, one way or the other, depend on subjective views on the artistic expression we call salsa, on what we like, and on what we intend by salsa in the first place. But we can still say reasonable things about the matter and make the creative process clearer and possibly easier. What follows are some thoughts of mine, mostly borrowed from my maths background. I am sure all this must have been said already within the art or humanistic literature, and if you are aware of work in this area please let me know, so that I can learn more.
Read more articles...
Our DVDs
Salsa Timing Exercises
This program will help you solve your timing problems once and for all more..
4 DVDs -

$80

$70
---
Bachata Caribbean Style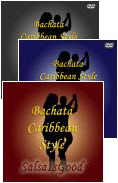 You have never seen Bachata danced this way.. You have never seen it look so good! more...
3 DVDs -

$80

$70
---
From Salsa to Mambo
Learn and practise all the essential footwork you need to dance On1, On2 and Cha Cha Cha more..
DVD - $30
---
Timing Exercises Vol 4
A little chachacha effort now, and you will have endless salsa fun forever! more..
DVD - $30
---
more products..